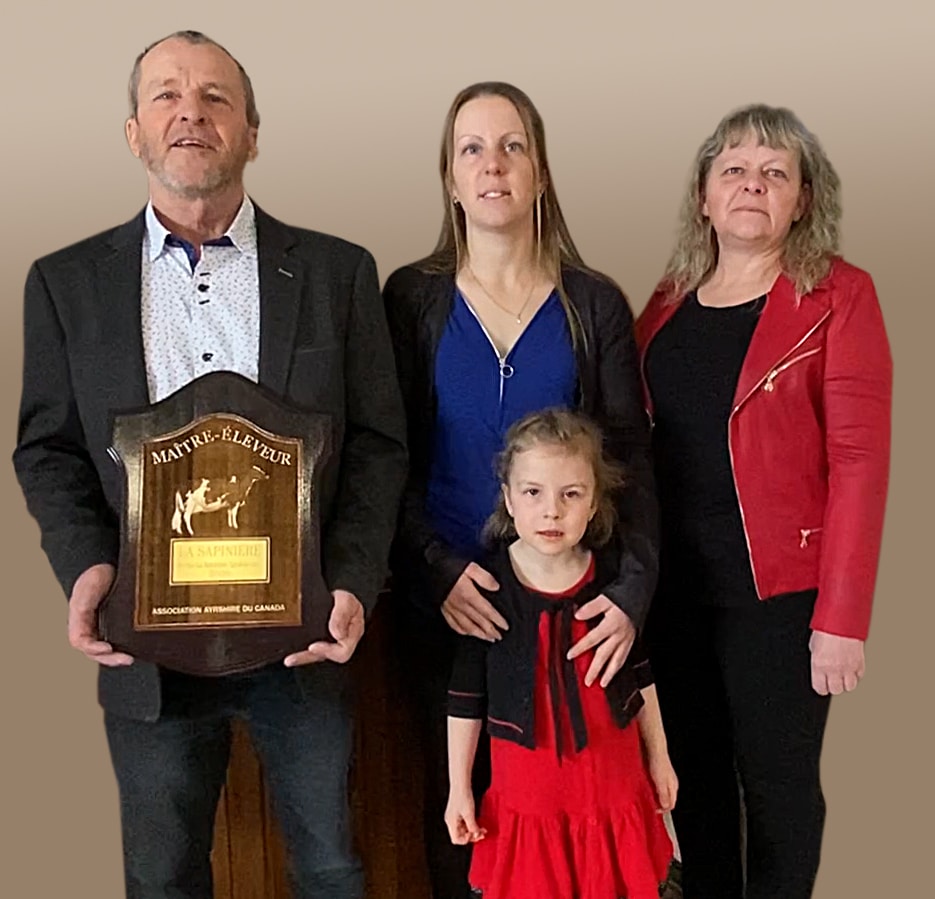 2020
LA SAPINIÈRE
It all began with the shared dream of Guylaine Lepage and Jean-Marc Daigle: to pursue their passion for livestock and agriculture. In March of 1997, this passion began to take shape when they purchased a herd, quota, and part of the land belonging to Encans Boulet in Saint-Agapit, Quebec. In the fall of the same year, they registered for official milk recording and classification, and caught up on registrations. This would mark the beginning of many busy years ahead!
Many changes were made since then, including constant improvements to animal comfort. Each year, their investments in the fields helped improve hay yields and quality. Audréanne's arrival on the farm a few years ago helped make the 2018 barn expansion possible in order to provide the dairy cows with a highly comfortable space. As a result, in 2019, the average rose to 10,057 kg at 4.33% fat and 3.39% protein for BCAs of 294-303-308 with 45% of the herd having delivered three or more calves. The classification is 7 EX EM, 2 EX, 25 VG and 26 GP.
The herd founders are La Sapinière Cacy EX-91 4E 5*, Laitquipe Patrick Blanche VG-87 2*, and Laitquipe Patrick Dina VG-89 2*. Cacy is the first Excellent cow in the history of the herd and is without question the cow with the greatest impact on the two Master Breeder titles, thanks to her descendants. These three foundation cows have given birth to highly balanced daughters both in conformation and production, including lifetime production and Star Brood Cows. During the last 10 years, 66 points were cumulated for milk production, 57 points for lifetime production cows, and 60 points for Star Brood Cows, which reflects the herd's great balance.
Many remarkable cows have distinguished themselves in the herd over the past 10 years by their sensational lifetime production performance of over 80,000 kg of milk. They are:
La Sapinière Facyris EX-90 4E 6*, 90,888 kg 4.56% F 3.55% P in 7 lactations, La Sapinière Cacy-B VG-88 4*, 89,663 kg 4.82% F 3.85% P in 8 lactations, La Sapinière Cacybel EX-90 6E 2*, 100,682 kg in 11 lactations, La Sapinière Cacydund VG, 105,693 kg in 10 lactations, La Sapinière Blandinas EX-90 6E, 101,627 kg 3.79% F 3.26% P in 10 lactations, La Sapinière Blandinis EX-90 5E, 86,421 kg in 9 lactations, La Sapinière Blandinar EX-90 6E 1*, 82,635 kg in 8 lactations, La Sapinière Dinalist EX-90 3E 2*, 93,671 kg in 8 lactations and La Sapinière Dinalor EX-92 7E 3*, 102,934 kg 4.42% F 3.42% P in 9 lactations. Another very important cow in the herd is La Sapiniere Facy-B EX-91 4E 6* with 57,000 kg 4.49% F 4.05% P in 6 lactations.
The future of the farm was set with the three promising young cows La Sapinière Facypir, La Sapinière Facyriss, and La Sapinière Facyber all scored VG-88, which had freshly calved their 3rd calf, they were awaiting the classifier's visit. Two of Chelyote's daughters were also classified VG 1st calf just days before the unfortunate event engrained in our memories, where nearly the entire herd was lost in a fire in July 2020.
Next year will be one of reconstruction for this team that's committed to breeding balanced cows that will allow it to pursue its passion.
This title, which is the culmination of many years of hard work, represents the great pride of being able to showcase all the cows Guylaine, Audréanne and Jean-Marc owned that let them experience their passion with great joy day after day.
Ayrshire Canada sincerely congratulates the La Sapinière Ayrshire Inc. farm on its second Master Breeder title.