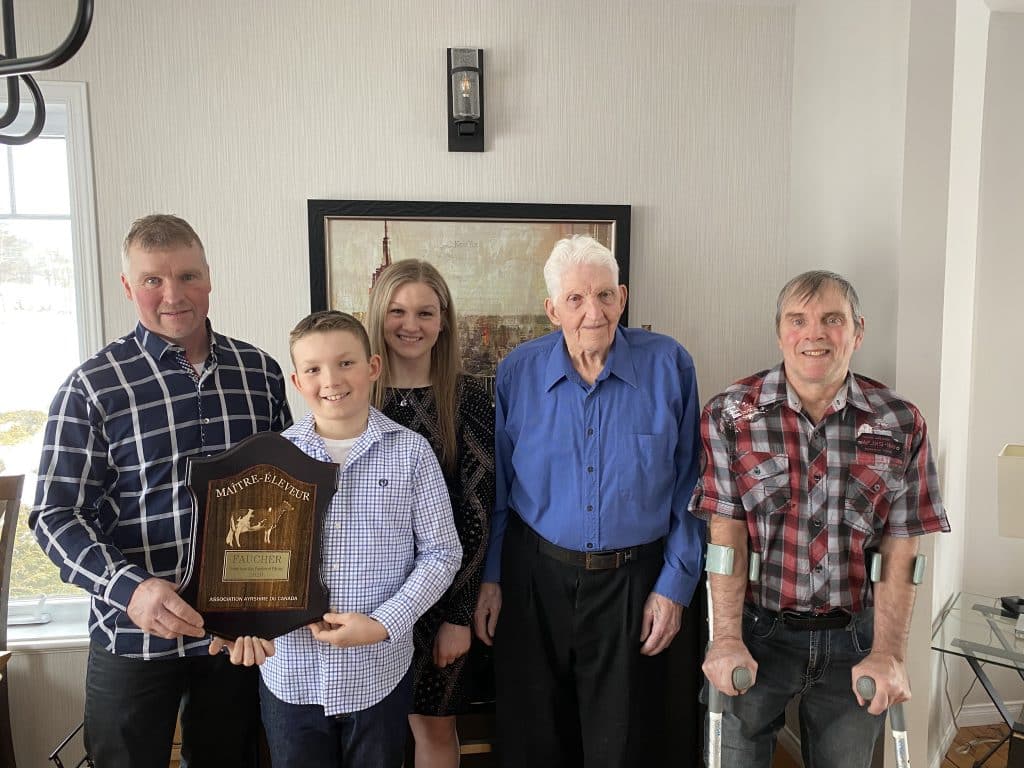 2020
FAUCHER
The Jean-Guy Faucher et fils Inc. farm in Sainte-Marie-de-Beauce, Quebec, is proud to accept the Master Breeder title for the second time. It goes without saying, the Faucher farm is a family affair: Serge and Luc Faucher have been its owners since 1997, the 7th generation to operate the business which has owned Ayrshire cows since 1975.
Faucher Loto Opa EX-96 6E 10* is certainly one of their proudest accomplishments and one of the best cows they have ever reared. She earned the Grand Champion title at the Royal Agriculture Winter Fair in 2008 and 2009. Opa was also crowned Reserve Champion at the RAWF Supreme Championship in 2008, and is a seven-time All-Canadian winner. She produced 90,664 kg of milk in 8 lactations. Thanks to her and her offspring, many of the points they obtained contributed to earning the Master Breeder recognition once again.
The production-conformation balance of the farm's cow families makes them a great source of pride. Over time, many of these families have had a major impact on the herd's genetic improvement. Faucher Calimero Média EX-93 2E 5* is one of the best producers the farm has raised, producing 60,004 kg of milk in 4 lactations. Her daughter, Faucher R Medium EX-92 4E 1*, produced 84,312 kg in 6 lactations. A number of other exceptional cows also contributed several points, including Faucher Kellogg Leyden VG-88 with a lifetime production of 102,618 kg, Faucher Wilton Misty VG-88 1* with 93,574 kg in her lifetime, and Faucher Pardner Leitha EX 3E 2*, with a lifetime total of 87,247 kg. As for Faucher Paddy Loulou EX-95 4E 5*, she produced 66,688 kg in 6 lactations, her daughter Faucher Cali Marylou EX-92 4E 2* produced 84,658 kg in 6 lactations, Faucher Reality Espiègle EX-94 5E produced 87,256 kg in 7 lactations, and Faucher Burdette Médiéval EX 3E, 74,772 kg in 6 lactations.
The current herd classification is 11 EX, 24 VG and 16 GP. The milk production average is 8,631 kg for 4.11% fat and 3.42% protein for BCAs of 248-252-253.
In 2007, they built an open-concept cold barn for the heifers. In 2012, they renovated the calf barn to improve the comfort of the animals. In 2014, a feed mixer was installed. In the future, they hope to expand the cow barn, which would allow them to increase the number of milking cows from 56 to 72. They also plan on purchasing more quota in order to increase production.
Within their breeding objectives, equal importance is given to production and conformation. To ensure their longevity, they seek great producers with high components, and cows with good conformation. In order to accelerate herd improvement, they perform embryo transfers using a few brood cow families.
Ayrshire Canada warmly congratulates Ferme Jean-Guy Faucher et fils Inc. on its second Master Breeder title.