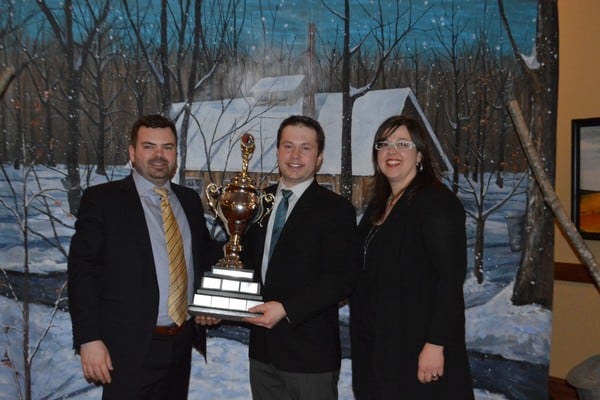 Bruno Soucy
2014
One could say that this year's recipient of the Award of Merit is one happy young fellow, since he is fully living out one of his passions: his love of the Ayrshire breed. His passion must certainly be built into his DNA, as he represents the third generation on the family farm. The farm is a prosperous business, owing to the vision and actions of this man, whom I consider to be a real entrepreneur and true businessman.
I have had the chance of getting to know this Award recipient when we both sat on the Board of Directors at Ayrshire Québec for almost 10 years. He displays exceptional leadership, and working with him is a real pleasure. In his mind, there are never any problems, only solutions! His participation has always been spontaneous and wholehearted. His ability to bring people together allows him to always surround himself with the right people when having to face major challenges, despite tight deadlines. Just think of the 2011 Elite Sale, after he took over the management following Martin Duclos' passing. He has continued to successfully manage it until last year. Over the years, he has been involved in the organisation of numerous promotional activities for the breed: youth events, Appalaches Sale, Ayrshire picnic, marketing training. His taste for getting involved most certainly comes from his father and grand-father, two men who were greatly involved within the Ayrshire breed and their community.
I am honoured to be the one, tonight, doing this presentation. Over the years, I have gotten to know very well our Award recipient and I can proudly say that he is my friend. Know that you can always count on him, regardless of circumstances, in good times and bad. He has good judgement skills, and his thoughts provide wise valuable advice.
For both him and his family, 2014 was marked by major events, which had repercussions on his business. First of all, the passing of his father Alain has left behind a huge void in their everyday life. Then, his small family moved into the farm house, left vacant following his grand-father Fernand's move into a seniors residence. And, finally, we cannot ignore the great honours they received in 2014, the Master Breeder Title awarded by the Ayrshire Breeders' Association of Canada, and, to top it all off, the first prize at Canada's Outstanding Young Farmers Contest, Quebec division. Sincere congratulations for all of these great awards.