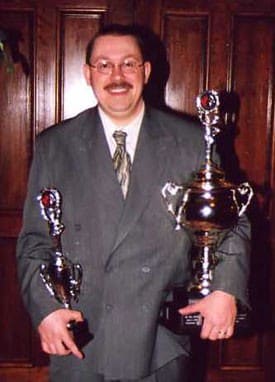 Christopher Studer
2002
It was exactly a year ago that a young man arrived at the Ayrshire Canada Annual Meeting in Woodstock, Ontario after visiting several Ayrshire farms in Ontario. He was very enthusiastic about the animals he had seen and the Ayrshire breed.
Since last year's Annual Meeting, this person has worked many hours to help us better promote our Ayrshires and works continually towards the genetic advancement of the breed. He has visited several farms, photographed lots of cows and attended many of our events.
Our award recipient has worked closely with the Ayrshire staff bringing visitors to meet with us, helping organize farm tours for International visitors, offering much appreciated advice and he always arrives to see us full of ideas and enthusiasm.
He takes his job to heart and promotes the Ayrshire Young Sire Proving Program every chance he gets but he also works countless extra hours and never misses an opportunity to promote our breed.
He looked after the very successful CIAQ/Semex Young Sire daughter exhibit at the International Spring Show last year and was a great help in organizing the activities for our International guests. In the fall, he was responsible for a group of visitors from Denmark who discovered our breed through his meetings and farm tours and they ended up purchasing semen and embryos. They enjoyed his hospitality so much that they are sending another group to the Spring Show this year.
A year ago not many of you knew this smiling, enthusiastic young man but after one short year his face is very familiar in Ayrshire circles, Ayrshire Canada is proud to present this year's Award of Merit winner, Mr. Christopher Studer.