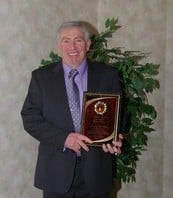 Norman Boswall
2010
We have many Ayrshire activities every year, shows, sales and meetings. This year's Honorary Life member still participates in all aspects of the breed.
His involvement in the Ayrshire breed started at a very young age on Blackaddar Farm in Prince Edward Island. He attended the 1969 World Conference Show at the Royal while on the National 4-H conference trip which his future wife Anne was on as well. He has been married 37 years, is the proud father of two children and a busy grandfather of 4.
The Blackaddar herd is known throughout the world. Production awards were where it all started and then winners at the big shows, top brood cows and influential bulls. But not only did he breed great cows and run his farm, Norman Boswall could always be counted on. He was a member of the board of Directors, on various committees at a National level but also took part in the local community and was president of the Charlottetown Fair. A good neighbor, Norman is always ready to lend a hand or coach a hockey or curling team.
Promoting Ayrshire cattle in Canada and around the world has been his passion. Through various Judging assignments and participation at World Ayrshire Conferences he has diligently let the international dairy community and dairy industry leaders know the tremendous qualities that the Ayrshire cow has to offer. He is respected internationally and in Canada as a source of information, promotion and commitment. He has been a genetic leader to the Ayrshire breed throughout the world and has set numerous goals and standards for each and every one of us whether it is in the show-ring or striving for top production. He has proved that the Ayrshire cow can do it all.
His passion, leadership and forward thinking are what this Association is all about. Even though his herd is dispersed, we still feel the impact of these great genetics. It is with deep admiration and the utmost respect that we honor this year's Honorary Life member, Mr. Norman Boswall.near future. His brother, Mathieu, is presently studying to be an accountant but helped at the farm when he was still in secondary. Their only sister, Arianne, is more and more involved in the business, despite her studies in communications. Their youngest brother, Pierre-Luc, is in secondary school at the moment, but also helps at the farm.
In 1994, André and Alain decided to bring an animal to the Spring Show. It was an excellent decision because Chaluka Festival Arabie came home with the red ribbon having won her Junior 3 Year Old class. Having well understood the principle that when you buy, you must sell. Therefore, in 2011 they consigned Chaluka Harmony Kazeni, a Junior Yearling from an EX 91 4E. She was purchased by Americans who did not hesitate to pay the highest price of the sale that year. They had reason to believe in her potential because that same year she was All-American and All-Canadian. This year, the Chaluka breeding distinguished itself among others with Chaluka Raven Vanille who was Tout-Québec Junior Yearling and nominated All-Canadian. This April calf was also Champion of the colored breeds at the Toronto Kubota Classic in November, and was admired throughout the summer at various exhibitions.
They have a few projects for the future, such as renovating the milking parlor and the milking system. They never hesitate to purchase good animals, because they know that other breeders will not let good animals go. Jean-Philippe will become one of the major shareholders in a few years, and we wish him a future as promising as the past has been.
On behalf or the entire Ayrshire Canada team, congratulations for your good work.