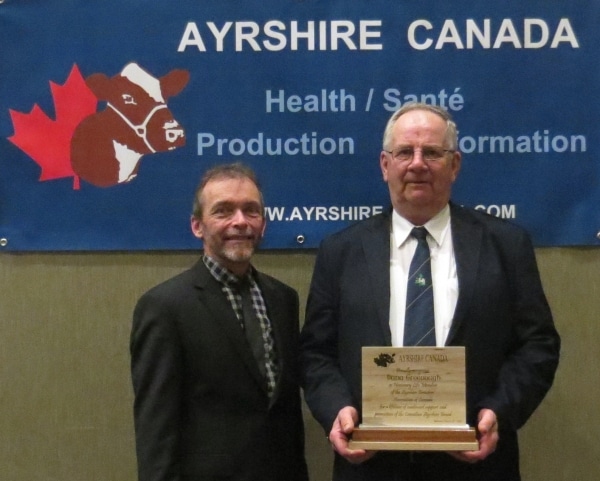 DANA GREENOUGH
2017
Dana Greenough has had a passion for Ayrshire cows for as long as he can remember. In fact, he can remember some of the first ever Ayrshire cows being purchased by his grandfather, J. Earl Greenough, that became the foundation of the Brixham herd.
Over the years, Dana never left the farm. First working alongside his grandfather. Then with his father and uncle and, finally, becoming a 50/50 partner with his brother until 2010. At which time Dana merged the Brixham herd with that of his daughter Gillian and son in-law, Albie. He currently works alongside them rearing 50 heifers each year.  A select few heifers always find themselves in his "princess" barn for some TLC.
Throughout his years, Dana has attended many shows, sales, and meetings. He has been an Atlantic Director for Ayrshire Canada, President of the Nova Scotia Ayrshire Club, Director for the Halifax Fall Fair and on the Hays Classic 4 –H Royal Selection Committee. All the while promoting the strengths of the Ayrshire cow and encouraging and supporting fellow breeders. He instilled his love for farming, the breed, and show fever to both his children. Showing them the ropes of the Show circuit over the years and now encouraging his grandchildren (5th generation) in their show pursuits.
When asked who his favorite cow had been, there was a long pause, as there have been many: Brixham Portia EX, Brixham Cornelius Hillary EX, and Brixham Monroe Falcon EX, to name a few. Falcon ultimately coming out on top as she won Reserve Junior Champion at the Royal Winter Fair in 1997 and the J. Earl Greenough Memorial Trophy. She was also the farm's first ever All-Canadian. Her bloodline continues to be a corner stone of the Brixham herd with her great-great-grand-daughter Brixham Rock Starlight having been a back-to-back All-Canadian winner.
Today, Dana continues to be an active Ayrshire breeder who enjoys going to meetings, sales, and shows. Always looking to meet fellow Ayrshire enthusiasts. Traveling to the World Dairy Expo during the World Ayrshire Conference and seeing Brixham animals walk the colored shavings was a memorable experience. Winning the Junior Banners at the 2015 Royal was yet another highlight in a life time spent in the pursuit of breeding quality animals.
Although he is a little slower getting off the tack box these days, he always has his whites packed and is ready for a chat with the friends he has made over the years, thanks to his beloved Ayrshire cows.
Ayrshire Canada is proud to award Mr. Dana Greenough as Honorary Life Member.
Sincere congratulations!