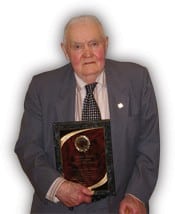 Ronald MacKechnie
2009
Over the years, Bonnieshade Ayrshires have been associated with excellence. Ronald MacKechnie has achieved this through his work and dedication that have contributed to the development and progress of the Ayrshire breed.
Mr. MacKechnie first went to the Royal Winter Fair in 1946 and has had continued success over the years. A highlight was having back-to-back Grand Champions in 1955 and 1956. In 1977 the Bonnieshade herd won the Superior Breeder award.
Always a believer in the Ayrshire breed, Mr. MacKechnie attended the first World Ayrshire Conference in 1969. He also attended following conferences in Finland, the UK, New Zealand and Kenya.
An innovator, he organized the Bonnieshade Invitational Sale for eight years which promoted the breed and make genetics available to other breeders.
Mr. MacKechnie has judged at numerous fairs in Quebec, Ontario and PEI and as a 4-H leader he has passed on his expertise to the next generation.
Mr. MacKechnie has instilled his love of the Ayrshire breed in his son and grandson. Bonnieshade Ayrshires are still taking home honours from local fairs, Expo Quebec, Madison and of course the Royal where they once again had back-to-back Champions in 2005 and 2006. S Wyman MacKechnie, Ronald and Ian make 3 generations who have bred and owned Royal Champions.
In recognition of his outstanding work and dedication to the development of the Ayrshire breed over the years, the Ayrshire breeders Association of Canada is proud to honour Mr. Ronald MacKechnie as an Honorary Life Member.