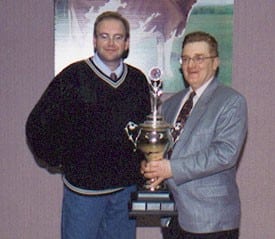 Marcellin Therrien
2000
TOn behalf of the Selection Committee, it's a great pleasure for me to introduce the recipient of the Ayrshire Award of Merit of the Year 2000.
As you now know, this award is presented each year in recognition of what a person has done for your Association, simply to recognize the work and all things done for the love of the Ayrshire breed.
Tonight, this trophy will be given to someone who, by his involvement, has influenced his peers and modified the destiny of our Association. His passion in defending our breed over the last year has been without limits. I am sure that it's with the same integrity and the same determination that he represented us on every positions he has held.
I can't be positive…but I think that over the last year, he was probably away from home more often than he was present…
His numerous commitment and convictions toward our breed and our Association made many of us think….
He got involved in our Association as if it was his own business. Wise negotiator, he doesn't easily show his cards. However, don't judge the book by its cover…you can get caught at his game…
Always on time, prepared, master of his decisions, he is first of all a team man. With him, no decision will be made lightly and beware should you try. With him, no compromise, we lose or win as a team.
Ladies and Gentlemen, it's an honor for me to present the Ayrshire Personality of the year 2000…a great breeder, a good friend…Mr. Marcellin Therrien.