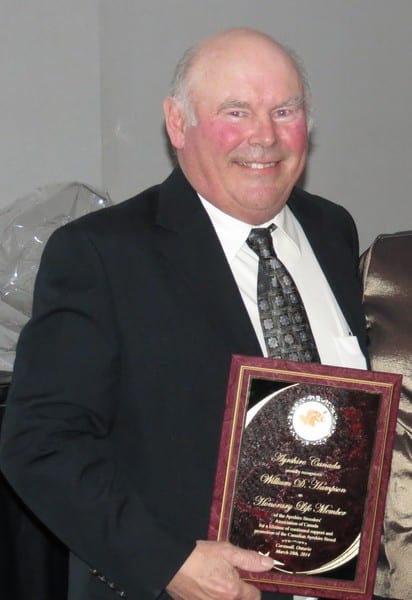 William D. Hampson
2013
The Hampson family farm was founded by their English ancestors in 1855. The first Ayrshires arrived in 1948, purchased by Bill's father and mother Bill Sr and Dorothy. Registrations were not maintained and a few Holsteins and Jerseys found their way into the herd. In 1974 Bill and Betty took over the farm and decided to have one breed of registered cattle. They felt the Ayrshire did the most efficient job of turning an acre of feed into milk with less trouble. Pure breds were purchased at the dispersal of Jack Griffin of Woodstock and from Carl Bertrand of Shady Walnut. With support and advice from the Bertrands and then Ayrshire Ontario field man Maurice Weber, Bill became enthused. They started registering and since there are many Indian relics found on the farm they chose the prefix "Artifact Haven".
DHI started immediately and classifying to follow a few years later that has since produced 22 Excellent cows home bred and 4 developed. Bill soon became friends with Tom Barnes who enjoyed showing, and started exhibiting at many shows. Bill admits that the Ayrshire cow isn't the only weakness he and Tom shared. Tom was the inspiration and king pin of his early years of showing. This has resulted in approximately 30 nominations with 1 All-Canadian, 7 Reserve and 1 All-American.
All four Hampson children – Jennifer,Tom,Mary and Paul excelled in 4-H but Bill is equally proud that the farm has supplied no fewer than 50  Ayrshire calves to non family 4-H members as projects. It has done a great deal to exploit our breed and prefix in Western Ontario. Bill always believed in the old minor hockey slogan -"TAKE, don't send your boy to the rink and STAY and watch him play" Bill and Betty have missed very few 4-H shows over many years. Bill believes it was the Ayrshire cow and 4-H involvement that inspired the Oxford County Federation of Agriculture to award the Hampson's with the prestigious Family Farm award in 2011.
Bill served as chair of both Ayrshire Ontario and Ayrshire Canada. While with Ayrshire Ontario he was happy to have the opportunity along with Bob Tolhurst to edit a series of papers written by Arnold Stansell that produced the fascinating book called "Selwood". He knows Arnold's heart was warmed when someone so capable resurrected the prefix Selwood. As president of Ayrshire Canada in 2001, a topic of great interest was discontinuing the lease agreement with Mac Donald College in favour of purchasing the current property in St Hyacinthe. Bill is proud of the fact the motion was unanimously passed by both the board and the membership at the AGM.
Bill has always believed that the Ayrshire being one of the old standard breeds should be strongly represented at the Royal Winter Fair, but realizes with the breed population base it is a long expensive haul and stay in Toronto. With the support of Ayrshire Ontario he has coordinated the supply of straw to Ayrshire exhibitors at the Royal for 10 consecutive years. The only breed to do so. The Ayrshire cow has provided the Hampson family with a great standard of living and has given them the opportunity to earn friendships from all across Canada.
With the 5th generation of Hampson now actively involved in the farm, Bill and Betty ease into semi retirement. They are enjoying the pleasure of farming with their son Paul and  the challenge of breeding cattle worthy of their slogan " Productive, Competitive and Beautiful Ayrshires"