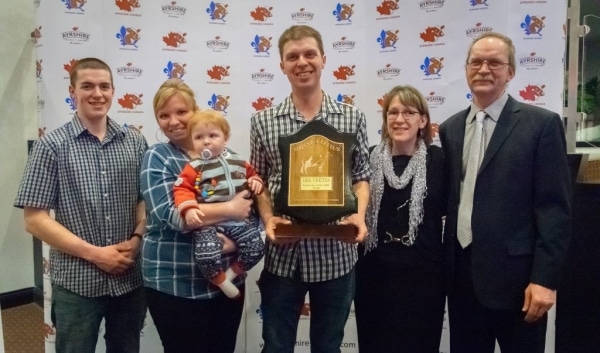 Des crêtes farm
2018
In 1960, following a move, the history of Ferme Des Crêtes began at its current location in Saint-Agapit, Québec. The Ayrshire breed had always formed the basis of the Des Crêtes herd and, this, since its beginnings with Charles-Émile Bilodeau a few years earlier. Over the years, milk recording and show participations were added to their business activities. In 1992, Clément took over the farming business, then comprising approximately 40 head of purebred cattle and 12 kg of quotas. A few years later, Christiane also became a shareholder alongside Clément. Finally, in 2018, it was David's turn – representing the 3rd generation – to become a shareholder in the farm, which now counts 85 animal and 45 kg of quotas.
In 2002, a cow barn and the manure storage pit were built. In 2018, the owners also undertook the construction of an airtight silo for corn silage as well as the installation of a vertical feed mixer. Over the years, they also focused on land acquisition and improvement as well as improving animal comfort.
Their herd classification is as follows: 5 Multiple Excellent, 2 Excellent, 21 Very Good, 24 Good Plus, and 2 Good. The milk production is 8,200 kg, with a BCA of 232-233-233.
Year after year, selecting the best animals from their good breeding families as well as embryo transfers allow the Des Crêtes herd to successfully progress. Among their biggest achievements, we note the family of Des Crêtes Tielleuse TB-85 3*, who had 4 daughters all classified Excellent. Also from this family are Des Crêtes Durango, at Semex, as well as several more cows just as outstanding as their predecessors. Production and conformation are both part of their everyday selection criteria for the herd. Finally, families from Des Crêtes Mincette TB-86 1* and the descendants of Des Crêtes Douce TB-85 3* all greatly contributed to their cumulative total of points, earning them this Master Breeder Award.
Ayrshire Canada is proud to present this Master Breeder Award to Ferme Des Crêtes.
Sincere congratulations!