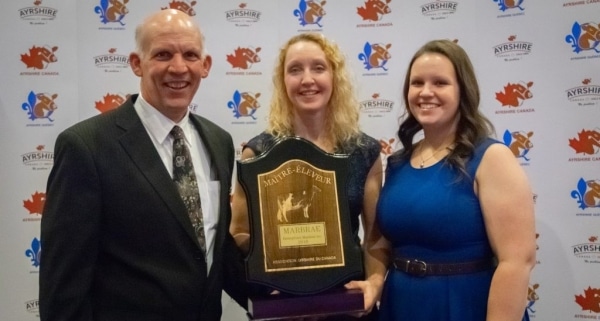 Marbrae farm
2018
The Marbrae prefix has a very dear history of family. Beginning in 1911, Albert MacFarlane began his modest herd of purebred Ayrshires on a farm of 100 acres in Howick, Quebec. Passing on this passion of farming to his son, Brodie continued to grow and develop his farm size and herd, winning Marbrae's first Master breeder title in 1965. Brian joined Brodie in a partnership in 1984, and then Brian's wife, Holly Mason joined the business in 1993. The farm and herd continued to grow over the next 20 years and in 2013 Marbrae Enterprises was formed with their oldest son, Dale creating a company. Rachel works full time on the farm, while Julie is a consulting services representative for CIAQ. Kevin is a first year CEGEP student at John Abbott College. Both Julie and Kevin are energetic and help bring new ideas to the farm.
From generation to generation, our philosophy has always been the same. To breed high producing, correct conformation, efficient, and trouble free cows.
One of Marbrae's goals is increasing genetic potential. By using genotyping as a tool, we can select our top animals for embryo transfers at the farm, and for the ET Evolution Program at CIAQ.
Our 2017 herd average was 74 records 8,892kg at 4.36% fat and 3.27% protein with a BCA of 251 265 251.
Developing cows families at Marbrae has helped us to bring our herd to the level it is today. The following cows have each contributed heavily in different aspects in building the next generation as well as leaving a legacy. Marbrae Persis EX 92 4E 6*, Marbrae BBBK Peta -ET EX 94 3E 9*, Marbrae Blue Ice EX 93 6E 2*, Marbrae Valius VG 88 3*, Marbrae Rhythm's Petal EX 91 8E and Marbrae Peru EX 94 4E 1*. Some of these cows have graced us with their presence, while others are still continuing to add to our herd but they have all contributed heavily towards our 4th Master Breeder shield.
As the dairy industry evolves, we continue to feel extremely confident in our beautiful breed.
Ayrshire Canada sincerely congratulates Entreprises Marbrae inc for their 4th Master Breeder Award.