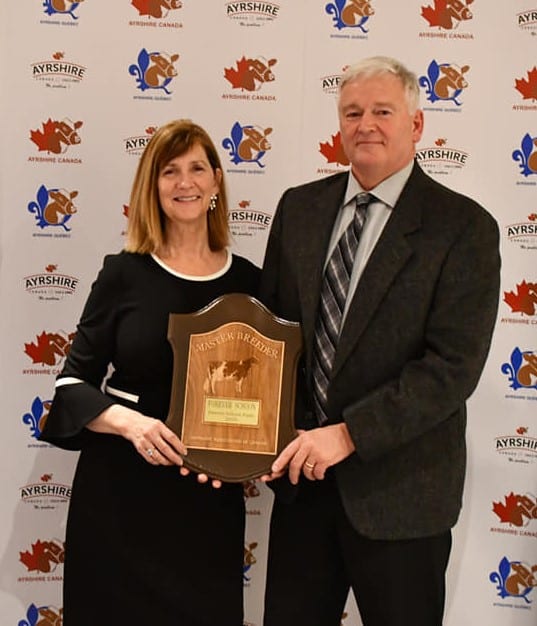 Forever Schoon
2019
Forever Schoon Farm's history with the Ayrshire breed is short and began when Cornelius and Cora Schellen turned their herd into purebred in the mid 70s. Cornelius purchased a few animals from local farms, as well as thirty or so from the Caverly Brothers in Maine. Garnet and his brother Andy purchased the farm from their parents in 1985 and decided to divide the herd, the land and the quota between themselves. This resulted in Garnet owning around 30 milk cows, 200 acres of land, and the prefix Forever Schoon. In 1988, he married Sheryl, who later became a business partner.
Today, the herd is comprised of approximately 200 head, with an average of 70 in milk. The farm owns 600 acres, 450 of which are clear. During the summer and fall, the milk cows are given access to some of the pasture for exercise, but always have access to free stall barn for round bale silage, barley and concentrates. The current production average is 8,833 kg of milk with 4.3% fat and 3.5% protein, with a BCA of 249-260-265. They like to keep the average between 8,500 kg to 9,000 kg; it's felt that it is the most profitable as the herd is not fed TMR.
Conformation has always been central to the farm's breeding philosophy, with the belief that production will naturally follow. In 2018, they had reached the herd's highest classification: 31 EX, 43 VG and 8 GP. In addition, in the last 10 years, nearly 70 Forever Schoon cows have
been classified EX. The farm has always made it possible for anyone to purchase animals, through sales or by pricing all the cows, and it is very satisfying to see their success in the show ring or in building new cow families.
Here are some of the cows that have had a significant impact on this second Master Breeder Award: Forever Schoon Pretty EX-93-2E 10*, her daughters Forever Schoon Ping EX-95-4E 5*, Forever Schoon Pretty Lady EX-94-4E 1*, Forever Schoon Petunia EX-93 1*, Forever Schoon Red Pretty EX-92-3E, Forever Schoon Pledge VG-88 2*, Forever Schoon Pretty One VG-89 and her son Forever Schoon Predator. Forever Schoon Perfecta EX-96-2E 5*, her daughters Forever Schoon Perfectionist EX-93-2E, Forever Schoon Perfectit VG-87 and her son Forever Schoon Perfecter. Also one of the highest Star Brood Cows in the breed, Forever Schoon Edith 2 VG-88 15*, her daughters Forever Schoon Edda EX-94-4E, Forever Schoon C Erica EX-91-3E 1* and her daughter Forever Schoon Elga EX-93, Forever Schoon Elizabeth https://www.cdn.ca/query/detail_ge.php?breed=AY&country=CAN&sex=F&regnum=87631142 EX-92-3E, Forever Schoon Electra EX-2E-2* and Edith 2 sons Forever Schoon Ebay and Forever Schoon Eiffel.
Garnet and Sheryl have two sons with careers outside of farming, who still help out when needed or at shows. Of course, none of these achievements would be possible without great help, thanks to Garnet's nephew Matthew, their dairy herdsman and Isaac. It is an extremely proud moment for Forever Schoon to be receiving their second Master Breeder Award.
Ayrshire Canada is pleased to present the Master Breeder Award for the second time to Garnet and Sheryl Schellen of Forever Schoon Farm.
Congratulation !