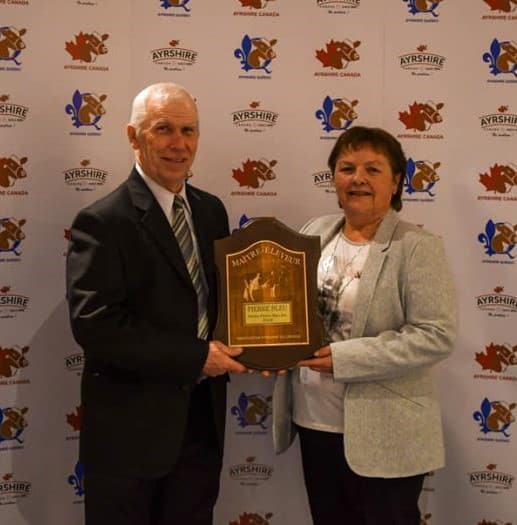 Pierre Bleu
2019
The history of the Pierre Bleu farm began on February 1, 1990, with 12 cows for a quota of 8.5 kg. In 1993, Solange joined Pierre as a partner of the farm. Éric, having graduated from Cégep Lévis-Lauzon's agricultural business management program in 2011, worked for another dairy producer to acquire new experience. He then joined the farm in 2014, and purchased company shares in 2018.
The farm has always focused on business development by regularly purchasing quotas in order to grow the herd. In 2004, the barn was extended to provide free-stall housing to heifers and dry cows. At the same time, the manure pit was constructed. In 2018, a feed room with a vertical mixer was added to improve cow production.
Production levels are at 8509 kg with 4.24% fat and 3.53% protein for a BCA of 242-235-252. The classification of the herd is as follows: 3 EX 3E, 1 EX, 23 VG and 19 GP. Over the years, the farm has frequently purchased animals from families that have stood out in the Ayrshire breed.
To improve genetics, the farm went ahead with embryo transplantation on its best animals.
The most distinguished animals that allowed the farm to be awarded the title of Master Breeder are  Pierre Bleu Gracieuse EX 93 8E 6 *, with a lifetime production of more than 94,875 kg of milk, as well as her daughters, Pierre Bleu Geisha-ET VG 87, Pierre Bleu Gentleman Gladis-ET VG and Pierre Bleu Gisèle-ET VG 86. Other noteworthy cows are Pierre Bleu Hamilton Galante VG 87, with a lifetime production of 81,002 kg of milk, and Pierre Bleu Képaro VG 87, with a lifetime production of 70,739 kg of milk.
In addition, Pierre Bleu Gracieuse won the title of Junior Champion at the 2007 Lotbinière Expo. In 2013, she was crowned Grand Champion at the Lotbinière Expo and Reserve Grand Champion at the Provincial Expo in Montmagny. In 2017, she was awarded the title of Ayrshire Dream Cow by Ayrshire Quebec.
For Pierre, Solange and Éric Bilodeau, winning the title of Master Breeder is a source of great pride and represents a tremendous success. They are committed to continuing to improve the productionof their cows, while maintaining the good conformation standard that is representative of the breed, so that their animals will continue to be healthy and stay with the herd for as long as possible.
Ayrshire Canada sincerely congratulates Pierre Bleu Inc for its prestigious title of Master Breeder.
Congratulation