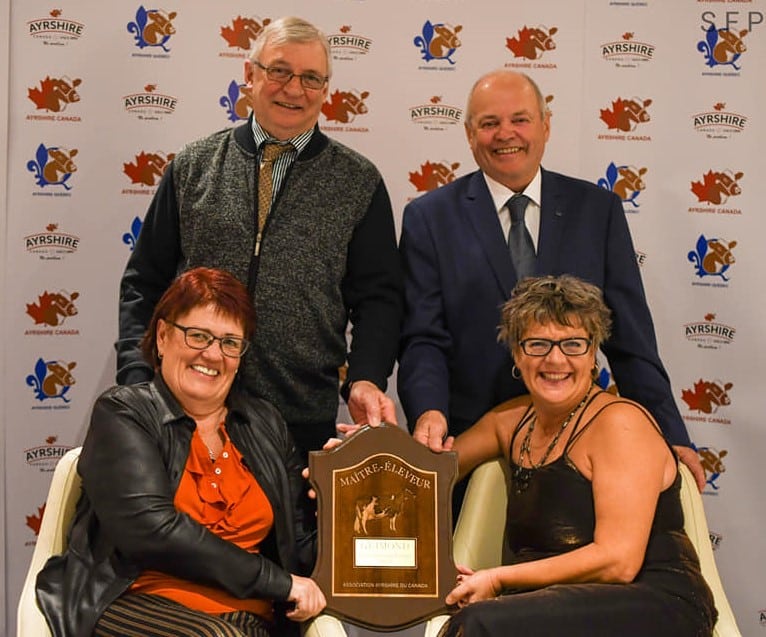 Guimond & fils
2019
For the Ferme Guimond & Fils, the title of Master Breeder represents a family history. And not only in terms of cow families. We are currently in our fifth generation of running the farm. All have contributed to the success of the business in their own way. Without
going into too much detail, we wish to emphasize that breeding Ayrshires has been the foundation of the farm for nearly 70 years.
It was in 1951 that Hermas Guimond acquired the first two thoroughbred Ayrshire animals. Subsequently, Lionel Guimond began official milk recording and participated at the Rimouski Exhibition in 1958. In addition, he was a pioneer in the region by being one of the first inseminators and users of this technology. In 1975, Gilles and Jacques carried on family tradition and continued to improve the herd with the acquisition of animals with superior genetics and by performing embryo transfers. They made the Guimond prefix known at the local, provincial, national and even international level. In 2007, Benoit joined the company and continued to improve the herd. For each of these individuals, the conformation and the productivity of the herd are priorities. This is why the best animals are bred, to consistently improve performance.
Currently, the herd consists of 2 EM, 2 EX, 26 VG and 38 GP. Average production is at 9,184 kg of milk with 4.2% fat and 3.4% protein for a BCA of 277-278-288. This is, in our opinion, due in large part to all the efforts focused on herd genetics and to a rather intensive farm management. Most of the cows have a good milk production, which has greatly contributed to scoring points for the title of Master Breeder. Moreover, we must mention our good cow lines such as that of Guimond Poker Ursula VG-87 3*, dam of Guimond Reality Yolande EX-3 E -91 4* who had three sons at Semex, Guimond Yale, Guimond Yankee and Guimond Yorktown. Guimond Calimero Kesy EX-6 E  2* and Guimond Zackary Sophie EX-2 E -91 4*, dam of Guimond BBK Sophia EX-2 E -91 1*, have contributed substantially to our farm over the last 10 years. For the years ahead, good animals are already prepared to take up the challenge.
To conclude, we must simply continue in this direction to constantly improve the Ayrshire breed for it to become increasingly competitive with other breeds. To achieve this, we must know how to use the latest technologies such as genomics and sexed semen of the best sires for our superior females. We must also trust future generations as our ancestors did.
Ayrshire Canada is proud to present the title of Master Breeder to Ferme Guimond & Fils.
Congratulation