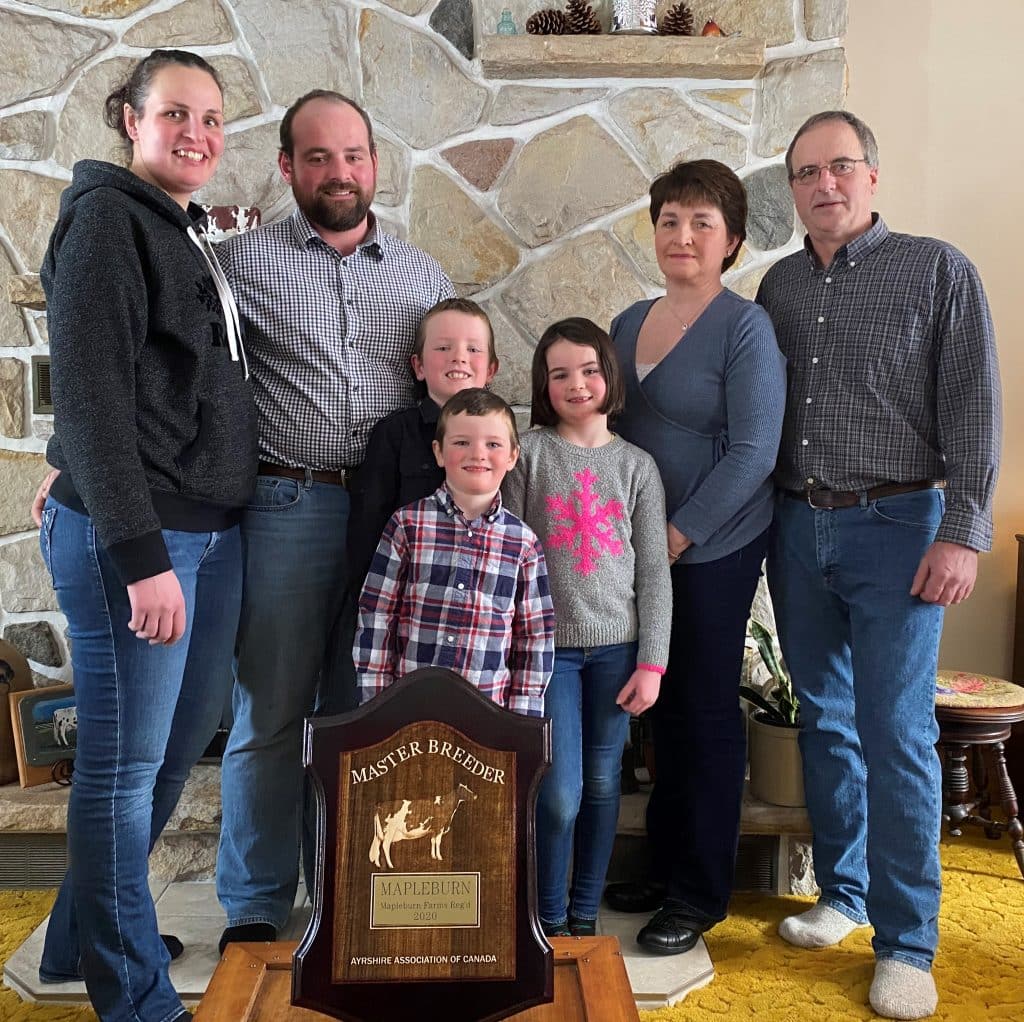 2020
MAPLEBURN
The McOuat family at Mapleburn in Brownsburg-Chatham, QC has had a long history with Ayrshires. The home farm was purchased by Andrew McOuat in 1832. The first purebred Ayrshire was purchased in 1889 and the first "Mapleburn" was registered in 1891. The herd has also been continuously on official milk recording since 1921.
The business partnership of Jamie and Campbell was formed in 2008. The farm is currently operated and managed by Jamie, Colleen, Campbell and Nadia McOuat. Jamie and Colleen's son, Chadam, who is a large animal veterinarian, also owns some cows in partnership. All of the herds Repro and Embryo Transfer work is his responsibility.
Their philosophy has always been to breed high producing cows with outstanding type. Presently, they are milking approximately 80 cows with a total of 180 head. The current rolling herd average is 9,075Kg 3.9% fat 3.4% protein. The current herd classification for our Ayrshires is 17 EX 32 VG and 14 GP.
The most influential sire in the herd has been Mapleburn Remington ET EX-92, a bull that they collected privately and marketed worldwide. He has sired many high producing cows and show winners across Canada and abroad. The two Remington daughters that gave them the most points towards this award were Mapleburn Loreal EX-93 4E 2* with a lifetime production of 106,237 kg in 6 lactations. The other is Mapleburn Goldie Hawn EX 9E 2* with a lifetime production of 99,131 kg. Goldie Hawn was sold as a heifer in the Grenville Dundas Stormont Spring Showcase Sale, and purchased by Leanne Waterston of Braefield Farm in Penobsquis, NB.
Other Remington's daughters that gave many points were: Mapleburn Remington's Katlyn EX-95 3E with 69,316 kg in 5 lactations, Mapleburn Remington Sheena EX 3E with 75,489 kg in 7 lactations, Mapleburn Ocean EX 2E with 71,497 kg in 7 lactations, Mapleburn Lucious Candy EX-92 5E with 86,269 kg in 8 lactations, Mapleburn Remington's Candace EX-93 4E 1* with 65,853 kg in 6 lactations, Mapleburn Alleycat EX 3E with 84,653 kg in 9 lactations, Mapleburn Trinity EX-92 5E with 79,278 kg in 8 lactations and Mapleburn Topanga EX 3E with 69,085 kg in 5 lactations.
The farm is a wonderful place to grow up and learn life's lessons. Campbell and Nadia's three Children Lyle, Olivia, and Austin give them hope for the future.
Ayrshire Canada is proud to present the title of Master Breeder for the second time to Mapleburn Farms. Sincere congratulations.