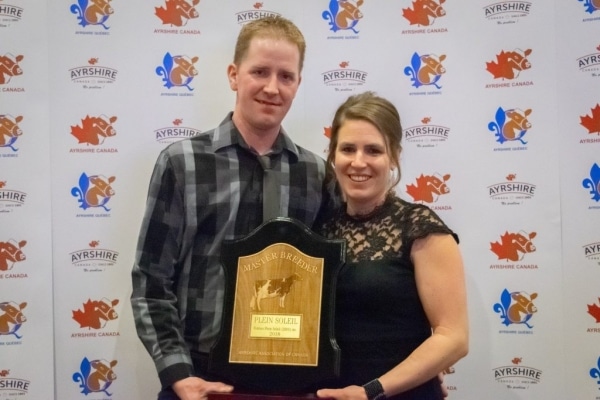 Plein Soleil Farm
2018
The Plein Soleil prefix came about in the 1980s when Ayrshires first made their entry into the farm. In 1999, Jean-Yves became the 5th generation on the family farm. The transfer was officially completed in 2011, when Jean-Yves and Jessie became equal shareholders and established their company: Ferme Plein Soleil (2010) Inc.
Since 2009, the farm has been focusing constantly on business improvement. Building a cold barn for heifers and dry cows, building a new dairy, automation of the feed, expansion of the cow barn, and animal comfort, such are examples of the investment made to reach their ambitious objectives. Both partners are truly committed to improving their performance in all areas of the farm business.
To its owners, the Plein Soleil herd strikes a nice balance between production, conformation, and longevity. The herd is composed of exceptional animals breeding very well and distinguishes itself in production. Today's herd mainly stems from the same founding family: the "H" Family. A few cows particularly stand out, notably Plein Soleil Hava VG 87 1* and Plein Soleil Heyda EX 90 2E 1*, along with their descendants.
The herd production amounts to 9,400 kg, with 4.25% fat and 3.4% protein. Jean-Yves and Jessie's goal is to produce low-cost milk, an endeavour which ranks them in the top 20% for cost of production per hectoliter. Their breeding approach is to select based on the following criteria: kg of milk, % of fat, and % of protein, all of this while maintaining conformation. This is what contributes to the development of their herd, with animals that will favourably pass on their genetics through the years.
Jean-Yves and Jessie are living a full life between their business and their family. They are the proud parents of two boys, who participate in their own way in the daily farm chores. To facilitate a work-life balance, they introduced three-times-a-day milking in April 2016. In keeping with their goal to always evolve within their business, this change also allowed them to purchase additional quota with the installations already in place.
This second Master Breeder Award is seen as a recognition of all of Jean-Yves and Jessie's daily hard work. It is with their special bond and complementarity that they wish to continue developing their farming business. Working with your life partner is not always easy, yet, for them, this is a challenge that pushes them to always surpass themselves.
Ayrshire Canada sincerely congratulates Ferme Plein Soleil for their second Master Breeder Award.