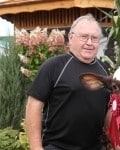 Harris Shufelt
2016
Harris' love of the Ayrshire cow began in calf club. He and his father would purchase a new calf every year. The herd grew and matured and so too did Harris. He continued his involvement as President of the Brome 4-H club and was a top judge in Quebec. While at MacDonald College in Agriculture, his passion for the Ayrshire breed grew. One of his most precious memories was when he was first awarded Junior Champion female at Brome Fair with "Des prairies Columbine", which he had purchased from Roger Beaudry.
After leaving college, Harris gained experience off the farm through several jobs. He worked as a bulldozer land inspector and was one of the first PATLQ supervisors, responsible for the whole Eastern Townships area. He also worked for and was part of the executive of the Quebec Farmers' Association. He then returned to the Shufelt homestead, as a married man (married to Carol McCaw) who was blessed with three children, Kevin, Janet and Andrew… He was the 4th generation working this land and continuing the legacy of farming.
He knew that he wanted to milk cows. He started his operation by purchasing a herd of grade Holsteins, which included the quota. Thirteen years later, Harris upgraded by purchasing purebred Ayrshire cows. He and his family started showing these cows under the prefix Dale Vista. They went to such fairs as Quebec, Sherbrooke, Bedford, Brome, and the Royal Agricultural Winter Fair.
The children's interest in showing calves increased. Many discussions followed regarding the Ayrshire cow, its structure, legs, udder, capacity and blood lines. It reminded Harris of a day, when his real passion developed for showing the Ayrshire cow. He, Pat Frizzle, and Red Turnbull sat on a hillside describing what a perfect Ayrshire cow would look like. Following that, Harris won the Provincial Judging competition at Sherbrooke Fair.
As time passed, Harris needed to "breed" new life into his Ayrshire herd. He saw his chance in the late 1980s.  He, Edward Sanborn, David Shufelt, and Chuck Fowler decided to purchase Bonnie Brae Coronation. He produced many beautiful heifers and several good cows; one in particular was Dale Vista Coronation Mabel (Ex-5E 92).
Recently, at the 2016 Royal Winter Fair, Dale Vista Norm's Pretty, now owned by Robert Tolhurst, placed second as an aged cow. Her pedigree comes from Dale Vista Madge's Paula 7M, one of the first Dale Vista's that Harris registered.
Harris is a visionary and a risk taker and, like all dairy farmers, he has a deep love of the land and animals. He has passed these qualities on to his children. His wish has always been for his children to carry on to be the 5thgeneration on the Shufelt farm. Both Kevin and Andrew chose to return to the farm and go into partnership with Harris. Dale Vista will continue breeding high performance Ayrshires for future generations.
Ayrshire Canada is proud to award Mr. Harris Shufelt as Honorary Life Member.
Sincere congratulations!