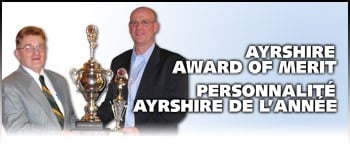 Grant Roy
2007
The Award of Merit was created in 1996 to recognise the immense contribution that Alex McCaig made to the success of the World Ayrshire Conference. Each year a new recipient is selected by the previous winners.
Intelligent, visionary and passionate are all words that describe our winner this year although he got off to a dubious start in agricultural. Born and raised on an Ayrshire farm, he worked hard and played harder. Following a well remembered but very short passage at agricultural college he returned to work on the family farm. The interest in the animals was there but the desire to be the owner and manager of day to day operations wasn't a high priority so it was off to University again. But after a few years of life in the big city with all the experiences the city has to offer, and our winner never misses out on opportunities, the desire to go back to the farm became too strong to ignore.
Settled into farming, marriage and parenthood it became obvious that devoting time to the Ayrshire breed and the dairy industry was also an important aspect of the business. There are always lots of challenges and venues for new ideas to occupy a sharp mind on the Ayrshire Quebec and Ayrshire Canada Board of Directors.
Quickly appreciated for his sharp mind and wonderful sense of humour he moved from President of Ayrshire Quebec to President of Ayrshire Canada to Director of CDN on to Delegate for Dairy Farmers of Canada and the World Ayrshire Federation. Each group and each organization has benefited from his wisdom and willingness to devote his time. An excellent ambassador, he fits in everywhere and understands how the world works.
He has tackled each new mandate with a clear idea of what he can contribute to make sure things progress. He doesn't run in the face of adversity but finds solutions and makes them work.
He has contributed time, he has contributed money. Whether in a meeting in South Africa for classification, Quebec City for the dairy industry or a sale in Madison his passage has benefited every Ayrshire breeder.
If anyone had told me when he was a teenager that he would grow up to be a great leader, I would have laughed a long time. He hasn't ever grown up but he has become a great leader. Our Award of Merit winner..Grant Roy.