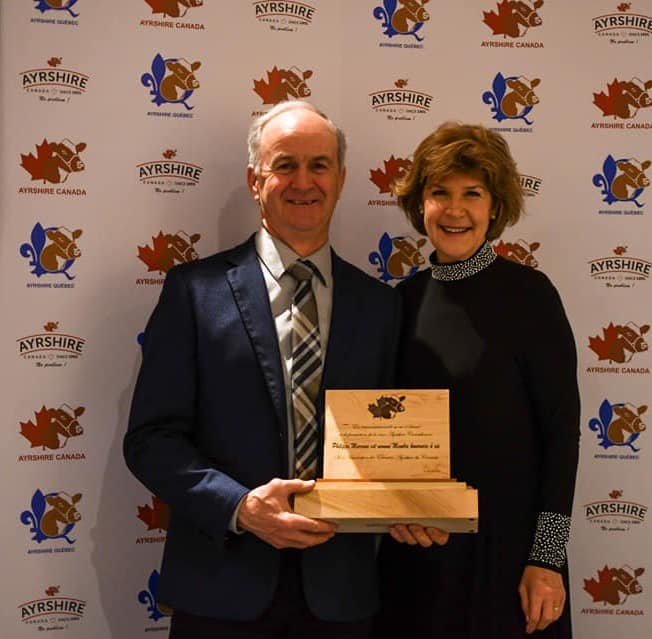 Philippe Marcoux
2019
PHILIPPE MARCOUX
Philippe Marcoux has been, since his beginnings as a dairy producer, a fervent defender of the
Ayrshire breed and of excellence in breeding.
His involvement in our association has been very important. His numerous hours of work have
been offered so generously, and always with a wide smile.
From 1996 to 2018, he has held the following roles, consecutively and without interruption:
– Director and President of the Etchemin Ayrshire Club
– Member and Chairman of the Board of Directors of the Société Ayrshire du Québec
– Representative on the Quebec Joint Dairy Breeds Committee
– Delegate to the Board of Directors of Valacta
It would be difficult to ignore the important role played by his partner Martine over the years.
She certainly had to cope with the inconveniences, the numerous challenges and the recurrent
absence of her Philippe.
The prefix "Du Petit Pont" originates from the bridge spanning the Chassé River, which borders
the farm. Philippe bought his father's farm in 1976 at the age of 21. Since 1982, he and his
partner Martine Roy have overseen the growth of the business. The family has also expanded: it
now has four children, Frédéric, Anne-Marie, Claudia and Véronique, and the ninth grandchild is
expected soon. Frédéric and his partner Marianne are now at the helm of the company.
The breeding philosophy of the "Du Petit Pont" herd has remained constant over time: to
improve with good cow families. It was therefore necessary to budget annually and to buy good
animals, even if it meant delaying a bit and paying more if necessary, always with the sole aim of
getting hold of the good cow, the true gem.
This is how he acquired Lessard Mozart Lie ET during the 1993 Ayrshire National Sale. Classified
EX 5E at the age of 12, she has 13 descendants in the herd, including 2 Excellent and 7 Very
Good. Rosayre Goldust also strengthened the herd in 1994; another great acquisition which
produced 14 daughters, including 2 Excellent and 5 Very Good. These two exceptional cows
allowed him to be awarded the title of Master Breeder of Ayrshire Canada in 2002. We must not
forget Lessard BBK Pasta, a source of great pride for the breed in several fairs.
Mr. Marcoux, in recognition of your work for our association and your dedication to promoting
the Ayrshire breed, the Board of Directors awards you the title of Honorary Life Member of the
Ayrshire Breeders' Association of Canada.
Congratulation !