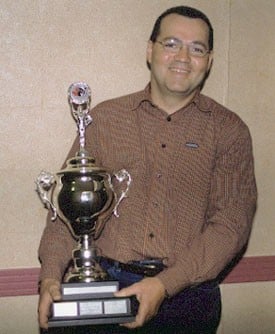 Richard Lagacé
1997
Mr. Richard Lagacé of Ferme Lagacé, St-Hyacinthe, Quebec, is the recipient of this prestigious award presented March 6, in Edmonton, Alberta, at the Annual Meeting of Ayrshire Canada.
Mr. Lagacé was honored because of his great involvement in the Ayrshire Association, especially for his work as Chairman of the 1997 Ayrshire Spring Show and the work he continues to do preparing for this year's International Ayrshire Spring Show.
It takes a great amount of effort to ensure the success of the biggest Ayrshire Show in Canada and the 1997 Show was the greatest success yet. For all the planning and hours spent searching for sponsors, Ayrshire Canada is proud to present the Ayrshire Award of Merit to a great friend of the breed, Mr. Richard Lagacé.