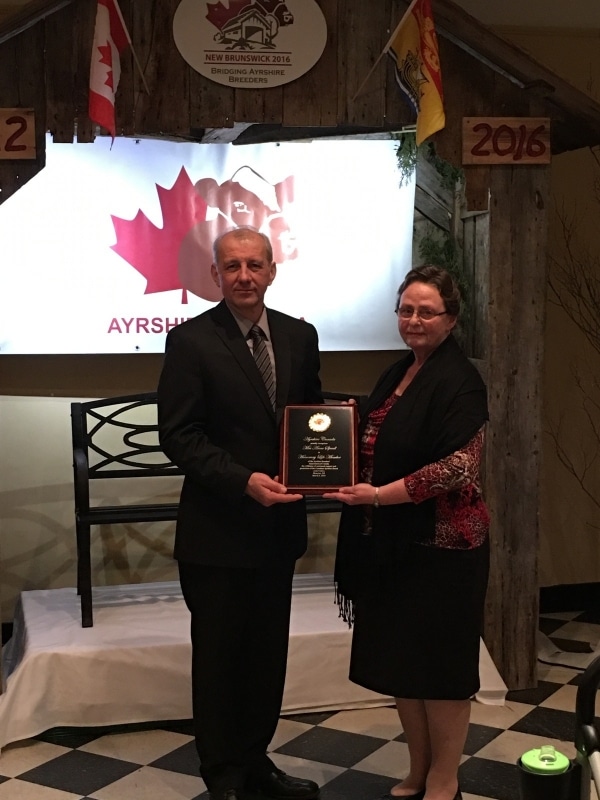 Anne Spaull
2015
Anne Spaull grand parents started the El Carmen Farm in Warren, Ontario in the North Bay region in 1912.  In the beginning horses, Shorthorns and sheep were present on the farm.  Anne's parents took over the farm in 1935 then the farm was shipping cream and milking by hand. In 1936, they put in a gasoline operated generator to run a 2-unit milking system switched to putting a can of whole milk on the train to Sudbury, and began buying Ayrshires. A devastating TB Test in 1943 took 56 head and hastened the end of the Shorthorns. After the war they pioneered the switch to tractors, balers, and combines in this community. They built a big dairy stable in 1965 and a 24' x 70' silo in 1973. At one time the farm was the largest operation around with 250 head, ½ Ayrshires and ½ a variety of European beef breeds.
From childhood Anne had two main ambitions: to farm and to breed Ayrshire cattle!  Anne learned to read with the Ayrshire Review and the Beatty Barn Book. Her favourite play things were calves which she named and taught to lead. 'Daisy', a beautiful Ayrshire heifer the colour of today's Swedish lines, was born in 1945 and it she grew up to be classified VG, give a very respectable amount of milk for her day, and live to 15!
After seven years at school in England, which included some downhill ski racing in Switzerland, Anne returned to the farm.  She brought the registrations up to date, which her had lagged, and took a big interest in the breeding programme. She competed in the early Dairy Princess competitions, winning in 1959.  Following in her father's footsteps, who was always active at all levels of the old Milk Producers' League and the Farm Safety Council, Anne was the first female Director on the O.A.A.S, and was possibly the first female President of Ayrshire Ontario in the early 1960's.  She also spent 20 years on and off Municipal Council and several years as secretary of the local Golden Age Club. Recently a member of the Warren Lions' Club joining her husband Ejnar.
Ejnar and Anne took over the farm in 1989.  Over the years they developed a very close and rewarding relationship.  Their crowning achievement was the development of a beautiful Ayrshire herd with tremendous potential.  Heifers of El Carmen herd have done very well both in Canada and in the States.
Fate still had some surprises for us: Anne's parents both died in 1997.  For the first time ever there was just one couple, doing things their own way, on the place, older generations had always remained after the take-over of the next one  In August, 1999 the big stable went up in flames, a terrible shock.
With help of neighbours, friends and other producers, they built a lovely little stable and changed from small square bales to 39" round bales.  For the next ten years Anne and Ejnar farmed largely on their own, employing someone periodically to clean pens.
In 2008 Anne got hurt, a 600-lb calf rammed her against a door frame seriously damaging her back, and she could no longer milk regularly, thereby being forced to hire someone.  In 2009, Anne and Ejnar faced the truth that they were past continuing a full time operation and sold the herd and quota.
Ayrshire is happy to award as Honorary Life Member Mrs Anne Spaull.
Sinceres congratulations!