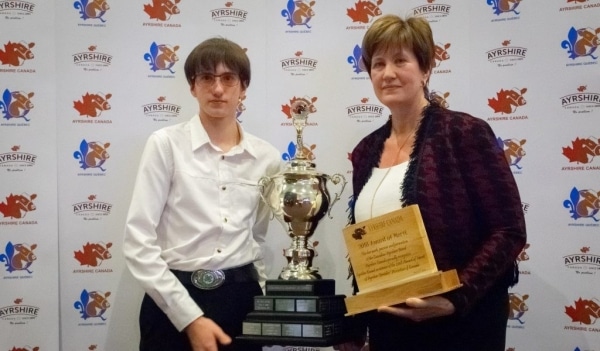 Cynthia Daoust
2018
Ayrshire Canada's Award of Merit is given each year to a member to recognize their involvement and work in our Association. This year's recipient perfectly embodies the spirit of this Award.
Following Agricultural studies in Guelph, Ontario, Cynthia Daoust started her own Ayrshire breeding in 1991.. At '97, Ayrshire Canada's AGM in Bromont, Cynthia Daoust decided to make official her attraction for her French-speaking Prince Charming, whom she had set her sights on. They together decided to settle in the Beauharnois region, near Montréal, Québec. She and her handsome Quebecer continued their whirlwind of adventures and, finally, resided in Eastern Ontario. By his own admission, Bernard accepts resiliently, yet with always a lot of pleasure, the jolts and repercussions of Cynthia's boisterous lifestyle.
While maintaining a strong hold on family life and the management of the Cyn Lorr herd, she never forgets to get involved in her local community as a parent supporter of the local broomball youth team, in the 4H Club or as a member on the various agricultural committees across the Finch region. And these are only a few examples.
A devoted and relentless organizer, she always honours her commitments. She obviously has her own personal style and her own way of doing things, but, believe me, we could never take away her dedication toward our Association.
Cynthia has always enjoyed showing and judging Ayrshires. She is the first women on the Ayrshire Official list. Over time having judged youth and open shows in 3 provinces and New York State.
The Breed Improvement Committee has been able to count on her presence and wise counsel over the last 21 years. She was chair when the Goalsand Objectives of our breed were initiated. Each year, she participates in manning the Ayrshire Ontario's booth at two very important industry events. Cynthia worked on and later chaired the committee charged with developing the current classification services. In 2009 and 2012, she organized the International Ayrshire Youth event here in Canada in collaboration with and the Grenville-Dundas-Stormont Ayrshire Club and Ayrshire Canada. Last year, she took the responsibility of holding our national Association's AGM, which greatly contributed to its success. With her unmistakable dedication to the breed, we like to think that it brings colour into her life!
Ms. Cynthia Daoust, the members of Ayrshire Canada's Board of Directors are very proud to present you with the 2018 Award of Merit.
Congratulations!